NBjoe wrote:
Over the winter I had three Yucca plants chewed down by vermin (I believe
). When the snow melted I found the remnants of a nest and all the leaves were chewed off at the base. Never had that happen in the 20+ years I've had the plants. One of the plants has green shoots appearing. Anybody know how long it will take the plant to recover? I'm guessing no chance of flowers this year.
Joe
An update: as of early September the plant has recovered quite well over the summer, as you can see in the pic. No flowers this year, but it least it's green.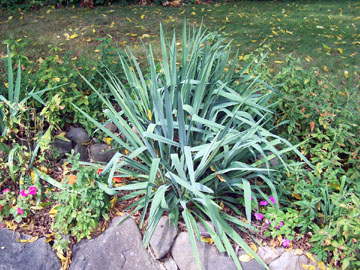 Now to keep those pesky vermin away from it this winter.
Joe